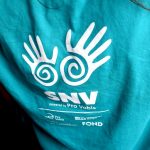 În perioada 13 – 20 mai peste 6.000 de voluntari din toată țara au sărbătorit cea de-a 18-a ediție a Săptămânii Naționale a Voluntariatului! Din Cluj-Napoca până în București, Craiova, Constanța, Petroșani și chiar Republica Moldova, peste 250 de activități au adus împreună voluntari de toate vârstele și din toate mediile (instituții sociale, ONG, mediul corporatist).
Pentru a încuraja promovarea temei acestei ediții, ,,Voluntariat pentru Dezvoltare Durabilă", am organizat si un Concurs de Idei ai cărui câștigători îi găsiți aici . Cu ajutorul materialelor promoționale câștigate și al celor peste 1.000 de voluntari implicați, aceștia au informat peste 7.500 de persoane despre tema ediției, Agenda 2030 și modul în care fiecare dintre noi poate contribui la atingerea Obiectivelor. Nici ceilalți parteneri ai ediției nu au ezitat să promoveze Obiectivele de Dezvoltare Durabilă sau voluntariatul, implicând peste 5.500 de voluntari în diverse acțiuni.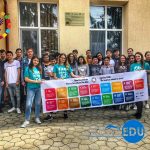 Una dintre activitățile care a reușit să adapteze cu succes Agenda 2030 la nevoile comunităților locale este ,,Despre Dunăreni,cu drag", desfășurată de către Dunăre.EDU. Pe durata întregii săptămânii, voluntari și coordonatori de voluntari au pornit în Caravana Dunării, folosind metode de educație nonformală (dezbateri, jocuri, flash-mob, ateliere, etc.) și activități recreaționale (jocuri sportive, concerte etc) pentru a aduce împreună tinerii din 7 comunități riverane Dunării. Astfel, tinerii participanți au fost informați despre dezvoltarea durabilă în lunca Dunării și ajutați să conștientizeze beneficiile și oportunitățile asociate apartenenței la această zonă. O altă activitate creativă care a reușit să promoveze cu succes dezvoltarea durabilă în cadrul comunității locale a fost desfășurată de către Team For Youth Association în Baia Mare. În cadrul evenimentului ,,Grădinăritul urban și noua sa armă: ,,bomba"  cu semințe", cei prezenți au discutat despre Agenda 2030 și au promovat dezvoltarea durabilă a vieții terestre prin realizarea unor ,,bombe" cu semințe din care, aruncate pe un teren viran sau chiar vârâte în crăpăturile asfaltului, vor răsări, în câteva zile, pâlcuri de plante ornamentale. În plus, printre activitățile desfășurate s-au numărat și unele care au surprins modul în care voluntariatul poate fi o resursă pentru atingerea Obiectivelor de Dezvoltare Durabilă. De exemplu, Centrul Național de Informare și Promovare Turistică Șimleu Silvaniei a organizat activitatea ,,Voluntar pentru o zi" care a oferit copiilor participanți ocazia să aleagă să se implice în una din cele trei acțiuni de voluntariat desfășurate: ecologizare, plantare de copaci și întrajutorarea unei familii nevoiașe. 
Ne bucură diversitatea și creativitatea activităților desfășurate în toată țara și sperăm că sloganul #FacBine ne va ghida tuturor acțiunile pe parcursul întregului an!
Acum, la final, trebuie să mulțumim încă o dată tuturor partenerilor locali, pentru că au acceptat invitația de a face parte din această ediție SNV, pentru că mulți dintre ei au acceptat tema pe care am propus-o și pentru că am dovedit încă o dată că fiecare putem spune FacBine cu toata sinceritatea.
---
Concursul este organizat de Pro Vobis în cadrul proiectului "SNV.18 – Obiective Majore", finanțat de FOND Romania în cadrul proiectului  "Towards open, fair and sustainable Europe in the world – EU Presidency Project 2019-2021".
Proiectul "Towards open, fair and sustainable Europe in the world – EU Presidency Project 2019-2021" este finanțat de Uniunea Europeană și implementat de platforma finlandeză pentru dezvoltare Fingo, platforma FOND România, platforma croată CROSOL și CONCORD, Confederația Europeană de ONG-uri pentru dezvoltare.